Leicester scout hut at centre of religion protests to reopen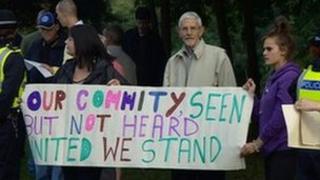 A former scout hut which was the focus of protests over plans to turn it into an Islamic centre is to reopen.
Last year the As-Salaam Trust said it wanted to take over the building in Thurnby Lodge, Leicester, after using it for prayer meetings for some months.
A residents group organised a series of protests and a petition, calling for it to be used for the wider community.
But the residents group has been given a rent-free lease of the hut and the As-Salaam Trust will use a nearby site.
Several protests, some attracting hundreds of people and requiring a significant police presence, were held over the issue.
The residents have refitted the building with donated goods since January, when the two-and-a-half-year rent-free lease was agreed.
'Shockingly generous'
Originally called the Forgotten Estates, the group is now known as the 55th Community Association, named after the old scout group.
Chairman Dave Hurst said: "It's been hard work over the past 90 days or so but everybody has been absolutely amazing.
"Even I am shocked with how brilliant people have been, how generous with their time and their donations.
"I know it will work, the area has been crying out for something like this."
The group calculated volunteers had given 2,547 hours to the project, which has also received donations worth £63,880.
The centre, which has a music room, a new kitchen, a bouncy castle and rooms available for hire for parties, fitness classes and sport, will open on Saturday.
The As-Salaam Trust said it was in the process of moving into the nearby Raven Centre and was looking to settle in after the disruption of recent months.