Loughborough's relief road plans go on display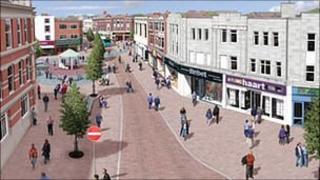 Plans for a scheme to build a £14.8m relief road in a Leicestershire town have gone on display to the public.
Work starts in Loughborough in May after the county council successfully won a bid for funding from the Department for Transport.
The project will also turn the A6 in the town centre into a pedestrian zone and improve the A6004 junction.
County council officers said the work would be a "benefit to Loughborough and will help spark regeneration".
The exhibition runs from Thursday until Saturday 13 April at the Rushes Shopping Centre.
Members of the public will have a chance to view details and speak to council officers about the planned construction work.
Plans will also be available online from Monday.
Lesley Pendleton, Leicestershire County Council cabinet member for environment and transport said: "We were delighted when we heard the government was releasing the money for this scheme which has been many years in the pipeline.
"We believe the work will be of benefit to Loughborough and will help spark regeneration, boost the local economy and make the town centre more accessible."
Several buildings in the area have already been demolished ahead of the main construction which is due to start on 7 May.
The scheme is expected to be complete by 2015.