Studio schools in East Midlands will have 'business-like environment'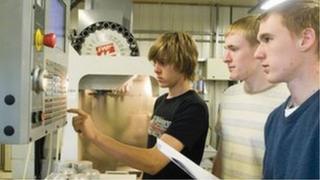 Three new studio schools opening in the East Midlands will have a "business-like environment" in which students will have to book annual leave and go on paid work placements.
The Department for Education announced the schools, in Derbyshire, Leicestershire and Nottinghamshire, would open in September 2014.
The schools have been set up in partnership with local businesses.
However, critics say the scheme overcomplicates the education system.
The three schools, the Sir Frank Whittle Studio School in Lutterworth, the Digital Studio School in Heanor and the Vision Studio School in Mansfield, are among 13 new schools announced by the government.
The three East Midlands schools are sponsored by existing colleges.
Andrew Cooper is the principal of Lutterworth College, which is sponsoring the Sir Frank Whittle School. The new school may be built in the grounds of the existing college.
He said studio schools will not take a traditional approach to school holidays.
He said: "They will offer a much more business-like environment. Our students won't get normal school holidays - they'll have to book holidays in advance, as you would in the workplace."
The students will also go on paid work placements with local businesses who support the schools through partnerships.
He added: "Our partners include everyone from Asda Walmart to Amy's Sweet Shop in Lutterworth. This is a pioneering approach involving local employers to create a workplace ethic in schools."
The Digital Studio School in Heanor is being backed by the Derby College Education Trust. It is hoped it will be built on the site of the former Heanor Grammar School.
The Vision Studio School, proposed by West Nottinghamshire College, will specialise in health, engineering and transport.
Susi Artis, the assistant secretary of Nottingham's National Union of Teachers said: "These schools are just springing up and it's very confusing.
"The government is throwing money at them and there's not a lot of rationale behind them. Parents don't know what's going on."