Oakham grants Freedom of Entry to Royal Artillery soldiers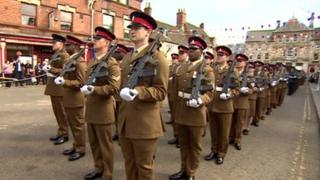 About 250 soldiers of the Royal Artillery have marched through Oakham as they are granted the Freedom of Entry to the Rutland town.
The soldiers, based at St George's Barracks in North Luffenham, marched with drums beating, flags flying and bayonets fixed.
It is the first Freedom of Entry parade in almost 30 years and recognises the barracks' military history.
Prior to Tuesday's parade, a service was held at All Saints' Church.
'Great honour'
Lt Col Mark Pullman MBE, commanding officer of the 16th Regiment Royal Artillery, said: "I am delighted that the regiment is receiving the Freedom of Oakham on behalf of the barracks.
"It is a great honour and privilege that the council and the people of the town have decided to bestow such an accolade."
Oakham has had a military presence since 1940 when the St George's Barracks started life as RAF Luffenham.
It was re-named St George's Barracks in 1998 and the 16th Regiment Royal Artillery moved in in 2007.
The regiment currently serves in an air defence role and was part of the 2012 London Olympics air security force.