Michelle Mills killed Edward Miller 'in a rage'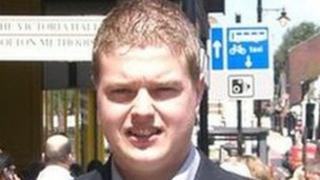 An "angelic looking" woman who stabbed her boyfriend to death has exaggerated claims of domestic violence, a trial heard.
Michelle Mills, 31, claimed 20-year-old Edward Miller had a history of being violent and hit and headbutted her before she stabbed him 24 times.
But the prosecution told jurors Ms Mills was the violent partner and had stabbed a former boyfriend in the leg.
Ms Mills, of Scalford, Leicestershire, denies murdering Mr Miller.
If she is found not guilty of murder, jurors can deliberate a charge of manslaughter.
'Heard voices'
In her closing speech for the prosecution, Yvonne Coen QC said: "What happened to Eddie wasn't a one-off, it was a pattern of behaviour with her partners - reaching for a knife when she was extremely angry with them."
Ms Mills has claimed she heard voices telling her to kill her boyfriend and had experiences where she thought she was being abducted by aliens.
Giving evidence at Lincoln Crown Court she claimed to remember stabbing Mr Miller only twice.
But Miss Coen told jurors: "She was in command of her faculties that night, knew what she was doing and was able to make a rational judgement."
Mr Miller was stabbed in the early hours of 6 November, after the couple returned home from a bonfire party at the pub where Ms Mills worked.
Miss Coen described Mr Miller as a "long-suffering young man" who "wanted a quiet night in" when they got home.
Texts to ex
But the couple argued for several hours, the court heard.
Ms Mills sent text messages to a previous partner during the argument, telling him "I still love you" and "I wish I had never let you go".
Miss Coen suggested she was trying to make Mr Miller jealous.
"Though he may have been immensely flattered that he had managed to attract such a girlfriend - an angelic looking girlfriend - you might think he had bitten off more than he could chew," she added.
Mr Miller was 11 inches taller and 10 stones heavier than his girlfriend.
"Big lad though he was, he was no match for the knife being wielded by a woman in a rage on him," said Miss Coen.
The hearing continues.