Michelle Mills guilty of Edward Miller's murder in Scalford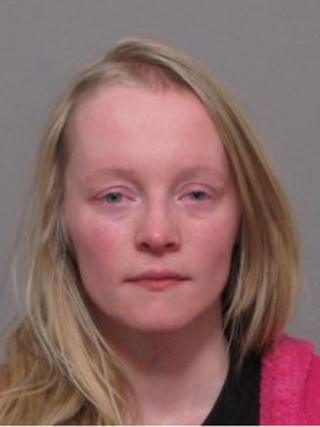 A woman who claimed to hear voices telling her to stab her boyfriend has been found guilty of his murder.
Michelle Mills stabbed Edward Miller 24 times with such force that the handle of the knife broke away from the blade.
She told police her 20-year-old boyfriend had been violent to her but the trial heard she had attacked previous partners.
Mills, 31, who stabbed Mr Miller at their home in Scalford, Leicestershire, will be sentenced on Tuesday.
Det Insp Lee Hill said: "Michelle Mills is a violent, self-centred and manipulative woman who was happy to portray herself as the victim of domestic violence at the hands of a number of her partners, including Eddie Miller."
Lincoln Crown Court heard Mills stabbed Mr Miller to death in the early hours of 6 November, after they got home from a Bonfire Night party at the nearby Kings Arms, where Mills worked.
'Not my fault'
Both were drunk and started arguing, and Mills claimed her boyfriend headbutted her.
She accepted causing his death but said she remembered stabbing him only twice.
In a 999 call she said: "I'm not having it any more. I'm not having him beat me up.
"It's not my fault. He did this to me."
In the call, Mills could be heard apparently talking to her dying boyfriend.
She said: "If it weren't for you in the first place this wouldn't have happened, would it?
"You got yourself stabbed."
As well as hearing voices, Mills told the jury she had experiences where she thought she was being abducted by aliens.
A statement from Mr Miller's parents said: "It's been hard to learn and read in the press how some people have tried to misrepresent Eddie, but family, friends and anybody who knew him will know the true Eddie."