Leicester Uplands school dispute gets arbitration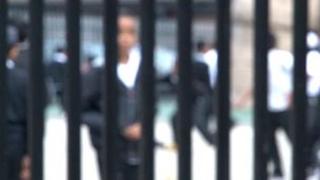 An arbitration service has been called in to deal with a dispute between staff and managers at a Leicester school.
Staff at Uplands Junior have lodged a formal grievance against the head teacher and chairman of governors over redundancies and management issues.
The city council said ACAS was the best option for a situation which lead to a one-day strike last week.
The National Union of Teachers welcomed the move but the school said it wanted someone with teaching experience.
A review of staffing at the school, which could lead to eight teaching assistants being lost, has been at the centre of the year-long row.
Investigation row
This prompted a vote of no confidence in head teacher Tim Luckcock and chairman of governors Abid Matak in March.
A further twist came when Mr Luckcock posted photos of himself online wearing a turban, with comments that he had nearly "gone native".
He dismissed calls for his resignation.
A one-day strike closed the school last week.
While both sides had agreed to an independent investigation into the dispute, agreement could not be found on who should lead the review.
Suspension call
Now the city council has brought in ACAS.
Assistant city mayor Vi Dempster said: "While we acknowledge that certain powers are delegated to the governing body, they are ultimately accountable to the local authority for the way the school is run.
"My paramount concern is for the pupils and staff at Uplands, and as a responsible employer with a duty of care to all of them we cannot let this situation go on any longer."
Peter Flack, NUT Leicester assistant secretary said: "We are delighted a properly independent service is being engaged.
"We were very concerned that previously the governors were suggesting they would choose who was going to do the investigation."
Mr Flack repeated the union's call for Mr Luckcock and Mr Matak to be suspended.
The governors have indicated they wanted to appoint someone with knowledge of local teaching issues.