Loughborough relief road work: Safety concerns raised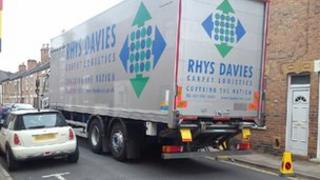 Work on a new inner relief road in a Leicestershire town is causing serious traffic and safety problems, some residents say.
The six-month project in Loughborough has resulted in lorries and buses being diverted along two residential streets.
Some buses have been forced to drive on the pavement along the narrow streets.
A Leicestershire County Council spokesman said the diversions were necessary and more signs would be posted in the area.
'Near collisions'
School Street and Cobden Street have both been affected by the project with traffic being diverted along them starting on Monday following the closure of Pinfold Gate.
Karen Notman, engineering design manager at Leicestershire County Council, said the council would look at alternate diversion routes and had tried to keep residents informed about the project.
"It is an ambitious £14.8m improvement scheme - whenever you work on existing streets it is difficult to balance things out," she said.
"We did trials to see if they (buses) could get through - perhaps we need to have further discussions to see that bus drivers are taking the due consideration when they should."
Resident Elaine Stonehouse said: "We have 40-tonne lorries going down School Street packed with soil where they are digging.
"We have witnessed two or three near collisions since last night."
Another resident said: "My children were hysterical after a Mini went up on the pavement.
"Buses come down and they are hanging over the pavement where the children are walking - and it is the main route to and from the school."