PG Tips chimp Louis dies at Twycross Zoo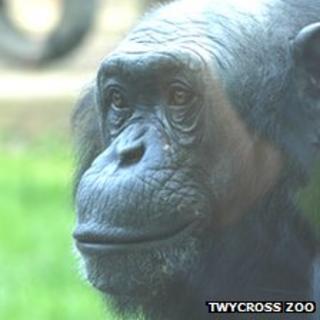 A chimpanzee who featured in the original PG Tips television commercials has died aged 37.
Louis, who appeared as 007 Brooke Bond in the adverts, was born at Twycross Zoo in Leicestershire and lived there his entire life.
Zoo staff said he was a popular attraction with visitors from all over the world and died on Monday following a short illness.
They are now considering erecting a permanent tribute to the animal.
'Never forgotten'
Dr Charlotte MacDonald, zoo curator, said: "Louis was one of the original PG Tips chimps and has lived to see all of the changes at the zoo.
"He was a very gentle and laid-back chimp - a favourite with everyone.
"Although gone, Louis will never be forgotten; he will always be a member of our Twycross Zoo chimp family."
Louis' partner, 42-year-old Choppers, who also starred in the ads, remains at the zoo.
Dr MacDonald said Choppers was being closely monitored by the animal team and "would be introduced to other chimps in the near future".