Leicestershire amphitheatre 'will be noise nuisance'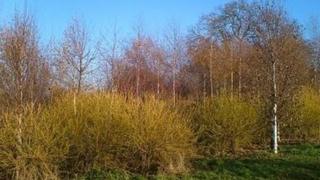 Residents fear an amphitheatre planned for a Leicestershire country park could spoil the beauty spot.
The Jubilee amphitheatre at Brocks Hill Country Park was planned to coincide with the Queen's 2012 Diamond Jubilee celebrations but was delayed because of bad weather.
Residents said it could disturb wildlife and become a noise nuisance.
But Oadby and Wigston Borough Council said the plans were still being considered.
Paul Gibson, who lives near the park boundary, said residents did not feel they had been consulted about the proposals.
"The council has now applied for planning permission but we don't know what the opening hours are going to be and what restrictions will be made on noise levels.
"You've got a park with a fantastic array of wildlife. Putting this amphitheatre in the middle of it makes no sense whatsoever."
Jennifer Nourish's garden backs onto the park. She said: "We were aghast when we discovered these plans.
"If they build this, we have no idea what they are going to use it for. Will it be floodlit? It's bound to cause noise trouble.
"The park is a beautiful, peaceful place for families to enjoy. It is not for evening entertainment."
Monica Bland said: "We use the park a lot. It is a concern how the building of the amphitheatre is going to affect what's in the park."
Anne Court, the council's director of services, said: "The idea behind the amphitheatre was to create a legacy for the Jubilee.
"However, it was delayed because of the awful weather we had last year."
She said the 150-180 seat amphitheatre would be used to stage school productions and outdoor theatre events.
It would be sited near the park's environment centre and would be built with wooden sleepers.
She added the cost of the project and its design were still being considered.
"Some residents have concerns about how it will impact the landscape," she said.
"Obviously, if the scheme continues it will go out for full consultation with residents."