London 2012: Has Leicestershire Olympic legacy 'gone'?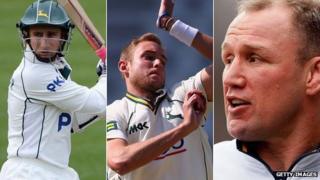 The town of Melton Mowbray in Leicestershire is probably better known for its pies than its athletes.
But dig a little deeper and you'll find a number of inspirational sporting figures hail from the area: England cricketers Stuart Broad and James Taylor, Rugby World Cup winner Neil Back and British Olympics equestrian hopeful Lauren Shannon among them.
The one thing you won't find in the town, however, is a leisure centre.
Until a few years ago, the town was dependant on facilities provided by two of its schools.
But when one school closed and the other college started redeveloping its sports complex, the shortage of alternatives seemed stark.
A recent refurbishment of Melton's Waterfield Leisure Pool has been viewed with mixed feelings by residents.
Alison Bowland, chair of the town's swimming club said: "One of the pools was filled in and made into a fitness studio. From a swimming perspective we have actually lost out in the last 18 months to two years.
"I think the reality is the legacy of the Olympics is very disappointing. We still need a new pool in the area, just as we need a lot of new facilities like squash and badminton and five-a-side football.
"For the local councils and the people with money to spend, knowing how best to direct it has been lacking."
Paul Butlin, owner of Hardknocks boxing and fitness gym in Melton agreed.
He said: "Nobody has come in and said, 'I want to start boxing because I've watched the Olympics'.
"I thought the whole point of the Olympics meant we would get better facilities and they would pump money in to get better athletes in the future.
"It feels as if the government has done what they wanted to do: big impact, great games and that's it."
'Something bigger'
Asfordby parish councillor Alan Webster is a former professional footballer with Scunthorpe United. He coached Derby County's academy for 10 years and said his whole life had been about sport.
"I was a member of the town's former leisure centre for 25 years," he said. "I watched it degenerate in that time and it finally closed without anything to replace it.
"Now, if people from Melton want to go and play a game of squash, they have to travel to Grantham, Nottingham or Oakham.
"Neighbouring Charnwood Borough has three leisure centres, I believe - Melton doesn't even have one. There are some great facilities attached to schools and some gyms but a town of this size needs something bigger."
Melton was one of hundreds of towns up and down Britain that welcomed the Olympic torch to its streets in 2012.
But did the much-talked about Olympic legacy actually make any difference to the town?
Alan Pearson, a Leicestershire Conservative county councillor said he believed it had.
"Melton has had these issues for a number of years," he said.
"But what the Olympics has done is bring to people's attention the importance of sport and how it brings people together. It helped bring focus to this project."
Mr Pearson said plans were under way which would mean Melton would get its leisure centre.
It would include five-aside football and indoor cricket facilities, a climbing wall, fitness studios, outdoor pitches plus a netball and basketball hall with space for 1,000 spectators, he said.
There would also be space allocated for a possible swimming pool, should it be required in the future.
Mr Pearson said a number of sites were currently being considered in the town but he hoped the facility would be up and running in two or three years.
And time is of the essence, if the town is to capitalise on the Olympic legacy.
"There needs to be massive focus from the government," he said.
"We need children playing sport in primary schools three or four times a week. We've got to do it quickly, or the next 20 years, we're in real trouble."
A spokesperson for the borough council confirmed funding options were being considered.
In many towns, however, the grand ambitions inspired by the Olympics do not seem to have been realised.
According to a BBC survey, four out of five people think the games have neither boosted the local economy or public services.
And only about one in 10 thought the 2012 Olympics inspired people to become more physically active.
In which case, does an Olympic legacy actually exist?
"It's hard to say what the legacy is," said Paul Jacobs, head of physical education at Melton's John Ferneley College.
"There have been a lot of schemes floating around but I don't see there's been a lot of difference.
"At school level, I wouldn't say I have had more students involved in sport this year than there were last year."
Loughborough uplift
Gaynor Nash is an Olympic legacy officer and goes into schools around the county to speak about how to develop an activity programme.
"Some schools have done nothing," she said. "I feel like I am totally reminding them about the Olympics - it's gone. Some schools have been terrific but others have dragged their feet."
Perhaps where the Olympics have made a difference has been at encouraging those already sports-focused to aim high.
Loughborough University, which is building an £8m campus for postgraduates at the Olympic Park in London, has seen an uplift in student applications for its sports degrees.
Director of sport Peter Keen said: "For me, the Olympics was a lesson in self-belief," he said. "If we put our mind to something we can do extraordinary things. That's the legacy from London."
Culture secretary Maria Miller, who visited the university this week added: "The new facilities really put this university in Loughborough as central to Britain's success in the future too."
But if the benefits of sport are to extend beyond the sporting elite to the population at large, parish councillor Mr Webster believes top-class facilities are key.
"The truth of the matter is, there is a lot of work to be done," he said. "And that starts with giving people the right facilities. People will demand those - at the very least."