Ryan Morrell death: Fristock festival girl sought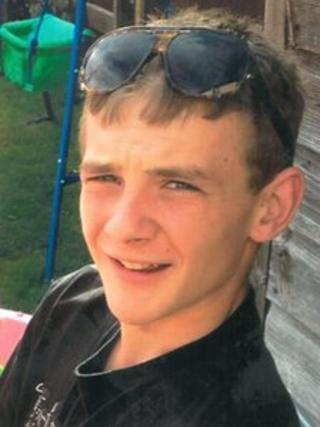 Police want to speak to a girl seen with an 18-year-old man at a Leicestershire music festival shortly before he was found dead.
Ryan Morrell's body was discovered in a burning car in Frisby on the Wreake in the early hours of 7 July.
He had been to Fristock 2013, at nearby Frisby, Hoby and Rotherby Cricket Club, the day before.
Police said the girl he was seen with is not in trouble, but she may be able to help with their investigation.
An 18-year-old man has already been charged with manslaughter.
The girl is described as being about 17, with long brown hair which came down to the middle of her back.
Moved vehicle
Det Insp Simon Shuttleworth said: "We would like to assure her that she isn't in any trouble but we just need to trace all those who may have seen or been in contact with Ryan before his death."
She was wearing a knee-length summer dress which was fitted in the body and flared out from the waist.
The dress may have had some flowers in the pattern, which included orange, yellow and pink colours, police said.
She was seen with Mr Morrell at about 23:30 BST on 6 July and the burning car was found in Washstones Lane at about 00:30 BST on 7 July.
Police also want to speak to anyone who may have moved a vehicle away from the area when the car was found alight.
The 18-year-old man charged with manslaughter is due to appear before Leicester Crown Court on 14 October.