Shakespeare's Richard III performed in car park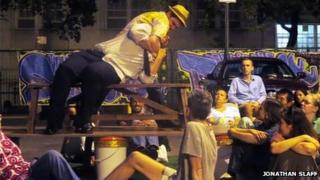 Shakespeare's Richard III is being performed in a New York car park - a year after the real king was discovered under a Leicester car park.
Shakespeare plays have been put on for free in the same municipal car park in Manhattan since 1993.
But the latest performance has been inspired by last year's archaeological dig for the remains of the king.
The theatre company said it had "decided to bring Richard III back to life in a parking lot".
The production is part of a series called Shakespeare in the Parking Lot, presented by The Drilling Company.
'Signs pointing to it'
Richard A Harden, a former director of New York performing arts group The Drilling Company, had been intent on directing Richard III in the car park but died in 2011.
Artistic director Hamilton Clancy said the discovery of the king's remains "made it obvious that all the signs were pointing to doing it this year".
The production, from August 1 to 17, is dedicated to Mr Harden's memory.
The king's leg bones were discovered last August and the rest of his body was uncovered in September.
The remains were confirmed as being those of Richard III in February.
There have been more than 50 productions of Shakespeare's plays in the New York car park since 1993, to more than 40,000 people.
It is a working car park, in Manhattan's Lower East Side, so people have to pay if they take their cars in.
However, they are not charged for watching the performance itself.
The actors sometimes have to stop and audience members have to move if a parked car drives away during a performance.
Mr Clancy said: "It is a tremendously accessible gathering place in the heart of the city.
"Like most companies that do Shakespeare we are following the spirit of (American public performing arts pioneer) Joseph Papp, but putting our own spin on it by placing it in a parking lot, making an urban wrinkle."