Ulverscroft residents in fight over Stoneywell car-park plans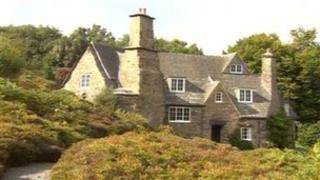 Villagers say they will fight plans to build a car park near Leicestershire's first National Trust property.
The trust was given permission to open Stoneywell, a cottage designed by Ernest Gimson, in Ulverscroft, to the public in September.
Charnwood Borough Council has since granted planning permission for 60 parking spaces near the property.
Residents say they fear a rise in traffic and claim the narrow lanes would be unable to cope.
The National Trust has planned for visitors to be transported to the property from the car park by bus.
Steve Perry, chairman of the Ulverscroft Residents' Association, said: "You can see from the lanes in the area that they're just not designed to take traffic.
"The National Trust estimate a 70% escalation in traffic numbers and clearly there isn't the infrastructure to support that."
Mr Perry originally set up a petition, which was signed by 250 people, to prevent the cottage being opened to the public.
'Happy and beautiful life'
The National Trust has estimated the property could get 35,000 visitors a year.
A trust spokeswoman said: "If you go to somewhere like Stoneywell you get this sense of a very simple but happy and beautiful life and I think that has huge relevance for us today.
"It was an art and design movement that came from the UK, and the fact that Leicester had this role in it, in the shape of Ernest Gimson and his work, is tremendously important."
They said the trust had tried to limit the "level of commercialisation because it's good for the site, the setting and the neighbours".
However, Jackie Trudgill, who lives in one of the cottages next door, said she feared for her privacy.
She said: "If you look around the area it's extremely quiet.
"Some of our walls between the two properties are no more than 3ft (91cm) high so I'm very concerned about the security issues of people wandering off into the gardens."
The trust said the property would be open to the public some time in 2014, and visitors would have to book in advance.