Fundraising teenager Charlotte Murgatroyd with 'heart of 95-year-old'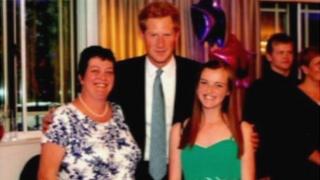 A 15-year-old girl who was expected to live for only a few days when she was born has raised £20,000 to help other young people.
Charlotte Murgatroyd has had 14 operations for a complex heart condition, and her heart has been compared to that of a 95-year-old.
She has raised money for Heart Link at Glenfield Hospital in Leicester, to thank them for helping her.
Charlotte, from Leicestershire, has also raised money for Dreamflight.
The charity takes seriously ill and disabled children on holiday to Orlando, Florida.
Charlotte said: "For some of them it may well be the only holiday that they've ever gone on because of their health conditions, and for others it may well be the only holiday that they ever go on."
Dreamflight says some of the children have gone on to "amazing achievements", including becoming Paralympians who have cited the trip "as a turning point for them".
Charlotte set herself a target to raise £10,000 after being taken on a Dreamflight trip herself, and has now exceeded this with activities such as pop-up restaurant evenings.
Charlotte carried the Olympic Flame when the London 2012 Torch Relay came to Leicester.
She was named an Inspirational Young Person in the WellChild Awards in September, where she met Prince Harry.
She was also named Young Braveheart at an awards ceremony hosted by Leicestershire's Lord-Lieutenant.