Fristock festival death: Jack Buckley admits friend's manslaughter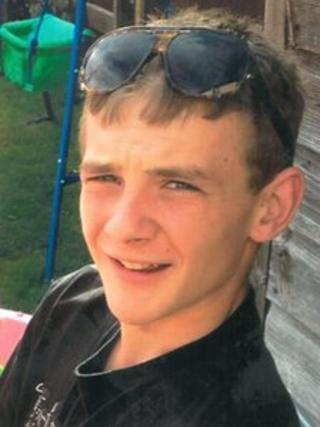 A teenager has admitted to the manslaughter of his best friend who was found dead in a burnt out car at a Leicestershire music festival.
Jack Buckley, 18, of Swan Close, Melton Mowbray, Leicestershire pleaded guilty after his friend Ryan Morrell died in a car fire that he accidentally started.
Mr Morrell, who was asleep in the car, had been at the Fristock music festival in July with his friend.
Buckley will be sentenced at Lincoln Crown Court later this month.
Dropped lighter
During the hearing, the court was told Mr Buckley had broken the window on the passenger side of the car to look for some of his possessions in the glove compartment, including a bag of cannabis.
The court was told that because it was dark he did not know anyone was in the car and used his lighter but accidentally dropped it.
Mr Buckley was arrested shortly after the incident which happened at about 00:30 GMT on 7 July.
Det Supt Matt Hewson, who led the investigation said: "The evening started as a group of friends out together having fun, but had a devastating ending.
"The consequences in this horrific incident are that a person has lost his life.
"Two families have been torn apart by the events that night - not just the family of Ryan, who have to face life without him, but also the family of Buckley."