Woman's death in Belgrave treated as murder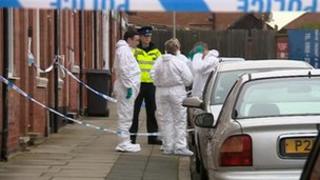 Police are treating the death of a woman whose body was found in a house in Leicester as murder, the force has confirmed.
Leicestershire Police said they were called to the house in Down Street, Belgrave, by a member of the public on Wednesday.
A man was arrested and is currently in hospital receiving treatment.
Officers also searched a house in nearby Asha Margh which was thought to be linked to the woman's death.