Leicester City Council seeks foster carers for elderly people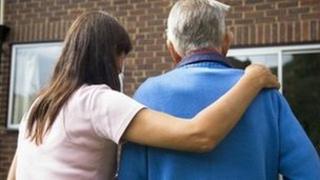 A fostering scheme where families will be paid to take elderly people into their homes is to be tried in Leicester.
Carers will be paid £224 a week and Leicester City Council will pay for modifications to their homes.
Age UK warned that potentially vulnerable people could be placed in homes with strangers.
But the council said carers would be vetted before being approved, and care would be closely monitored.
In October, the council confirmed plans to close or sell off eight of its care homes.
But the council said fostering is not intended to replace care homes.
Rita Patel, assistant city mayor for adult social care, said: "It's not suitable for everybody but for people who want to be in a family environment, who want to be taken care of on an individual basis, it's a fantastic scheme."
The scheme will be an extension of the council's Shared Lives service, under which people with dementia, disabilities or mental health problems can live with foster families, stay for a short respite break, or go for daytime support.
The council currently has 30 people in long-term Shared Lives placements, and has increased its staff from three and a half posts to seven, so it can support double the number of placements.
Shared Lives Plus, a national organisation which supports the scheme, said the model "works really well".
'Ordinary family life'
Alex Fox, from Shared Lives Plus, said: "It's a way for people to live in an ordinary family home, or to use an ordinary family home, and be part of the community.
"It's also very much about friendship, having fun and an ordinary family life, which people sometimes miss out on."
There are already 8,000 Shared Lives carers in the UK, recruited through 152 local schemes.
Leicestershire Age UK told the Leicester Mercury that the scheme should be approached with a "degree of caution as it would involve placing potentially vulnerable people in homes with strangers".
But Mr Fox said Shared Lives Plus schemes are monitored by the Care Quality Commission, the regulator of health and social care services.
He said abuse scandals often involved "people locked away", while Shared Lives allows people to keep a network of friends and family, which keeps them safe.