Lubbesthorpe development: Plans given final go-ahead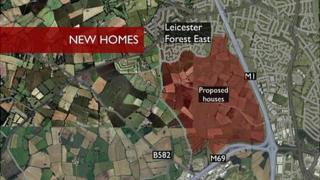 Plans to build more than 4,000 homes in Leicestershire have been given the go-ahead after developers confirmed they would spend £40m on local services.
Opponents of the project in the Lubbesthorpe area claimed it would lead to more traffic and air pollution.
Blaby District Council, which approved the development, said it would help meet the area's housing needs.
The Leicester Forest East Residents Action Group said people will suffer due to congestion on roads nearby.
'Massive development'
Councillor Ernie White, leader of the district council, said: "There is a need to provide lots more housing to meet the needs of our population and Lubbesthorpe allows us to do this in the best possible way for everyone.
"It will bring affordable houses to help our young people, extra care facilities for our older people, job opportunities and significant infrastructure such as schools, community facilities and transport improvements."
However, Paul Fox, from the Leicester Forest East Residents Action Group, said it would increase traffic in nearby communities.
He said: "I expect everyone will suffer to a greater or lesser extent.
"We're certainly not against building or [else] nobody would have a house, it's just the sheer scale of this particular development, it's the size of Market Harborough, it's massive.
"Traffic is our main concern and air pollution in the area."
Plans for the 973-acre development were first submitted by a consortium of developers, called the New Lubbesthorpe Promoters Group, in early 2011.
Blaby District Council approved the plans in 2012 and, despite a campaign, the government decided against a public enquiry into the 4,250 home development.
A new bridge over the M1 is due to be installed in February to help ease traffic to the new area.