Assaults in Spinney Hill, Leicester, 'not gang related'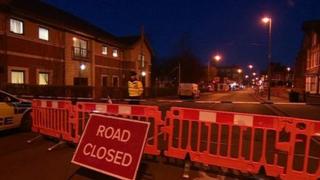 Police say they do not believe three assaults, which forced a major road to be closed overnight in Leicester, were gang related.
Three people remain in a stable condition in hospital after being assaulted in Spinney Hill on Sunday afternoon.
Part of East Park Road at its junction with St Saviours Road was closed but reopened on Monday morning.
Two men aged 25 and 43 have been arrested and remain in police custody.