Richard III: New £4m visitor centre plans unveiled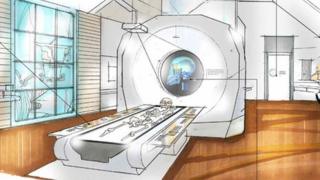 Plans for a £4m visitor centre dedicated to Richard III, whose remains were found underneath a Leicester car park, have been unveiled.
Work has started to transform the old Leicester Grammar School building, which overlooks where the king was found, into the centre.
An exhibition will tell the story of Richard III's life and how his skeleton was identified by experts.
The centre's trustees said it would give the city an economic boost.
'Enormous contribution'
The new visitor centre is due to be opened in the summer and its interactive exhibition will be titled Richard III: Dynasty, Death and Discovery.
The first floor of the building will feature a scanner and an illuminated table with reproduction bones set on top.
Keith Beaumont, chair of the board of trustees, which will take over control of the building from Leicester City Council, said: "The new visitor centre has the potential to draw visitors from all over the world, and to make an enormous contribution to the economic and cultural prosperity of the city."
The opening date of the new centre, and admission prices, are expected to be announced in February.
Steel plates designed to reflect Richard III's final moments at the Battle of Bosworth will be installed in Leicester's Cathedral Quarter, near to the new centre, in the spring.
The newly-developed area, combined with neighbouring sites, will create an outdoor event space with seating for up to 800 people.