Five hurt in bus and tractor crash in Rothley, Leicestershire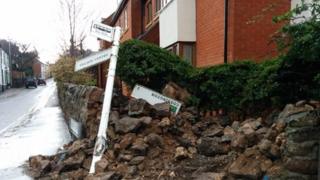 Five passengers were injured when a single decker bus collided with a tractor and hit a wall in a Leicestershire village.
The crash happened shortly before 10:30 GMT in North Street, Rothley, police said.
A 71-year-old woman suffered severe leg injuries and was airlifted to University Hospital, Coventry.
Her injuries are not believed to be life-threatening. Four others were treated for minor injuries.
An air ambulance spokesman said there were 20 people on the bus at the time of the crash. Most of them had minor injuries or were unhurt.
Louis Louis, landlord of the Royal Anglian pub, saw the aftermath of the crash.
He said: "The bus was totally written off, finished. There was a woman on the front of the bus as well.
"The bus was crumpled up and trapped her legs."