Eyres Monsell Gypsy church approved by Leicester city councillors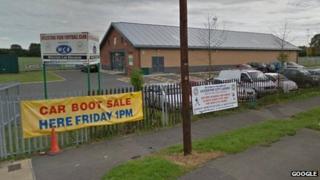 Plans to build a Gypsy church in a former football clubhouse have been approved by councillors despite more than 1,000 objections.
The place of worship will be at the former Aylestone Park FC site in Eyres Monsell, Leicester.
City councillor Lynn Moore said about 150 people came to the meeting - more than she had ever seen at a planning meeting for one issue.
Residents said it would lead to parking problems on the streets nearby.
Councillors on the committee rejected the complaints and approved the proposal, which will see the clubhouse converted to a Light and Life Gypsy Church.
The pastor of the church, Jackie Boyd, was saddened by the opposition, adding that he "did not know anybody who takes a caravan and horse to church".
"We've been meeting in Leicester for 20 years and nobody has complained," he said.
"Before we had to hire a place and would have to leave so other groups could use the space. Now we will be able to hold services and Bible studies without disruption.
"What have we done to deserve these complaints? I don't think this would happen if someone wanted to convert the building to an Indian church or a mosque."
Dr Moore, who sits on the planning committee, said: "There is always suspicion about groups that are unfamiliar when they move to an area.
"Often once they come in, that suspicion fades away and I hope this will happen in this case."