Ex-Conservative councillor David Parsons joins UKIP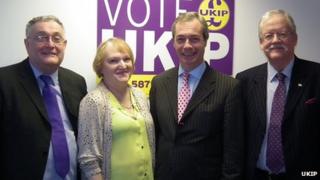 The former Conservative leader of Leicestershire County Council has joined the UK Independence Party.
David Parsons resigned from the county council in July 2012, after nine years as leader, in a controversy over his travel expenses.
In November 2012, he also left the Conservative Party and served as an independent councillor.
Mr Parsons, who remains a Blaby District councillor, said the "time was right to align myself to UKIP".
'A winner'
"The old Conservative values are expressed well within UKIP, which is why I have been attracted to work with them," Mr Parsons said.
"I think with some good thoughts, a traditional Conservative party, which is what UKIP is, I think it could be a winner.
"I have always been a champion of local government, and in UKIP, we have a party which believes in real democracy at a local level."
Mr Parsons added he would not "rule out" standing as a UKIP candidate for the general election, in 2015.
Elizabeth Parsons, his wife and fellow Blaby District councillor, has also joined the party.
Roger Helmer, UKIP MEP for Leicestershire, said: "I'm delighted to have two councillors with the experience of David and Elizabeth, joining our growing team in Leicestershire.
"UKIP stands ready to show voters a real alternative to the establishment, a political party which puts the electorate first."
The UKIP's performance in the 2013 local election was the "biggest surge for a fourth party" in British politics since the Second World War.