Leicester City Council in St Mary's Fields £4m expansion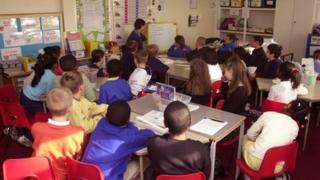 A Leicester infant school is set to be turned into a primary school at a cost of £4m.
Leicester City Council said the capacity of St Mary's Fields, in Rowley Fields, will increase from 236 to 420 pupils in September 2015.
The move is part of the authority's plan to create more than 4,000 additional primary school places in the next three years.
The project is to be financed using the government's Basic Need capital fund.
Councillor Vi Dempster, assistant city mayor, said: "We know there is a need to increase pupil places.
"We also know that an all-through primary system is better for pupils' education, removing the need for transition from infant to junior schools, which can be stressful for families."