'Moronic' hoaxer Joshua Bonehill-Paine spared jail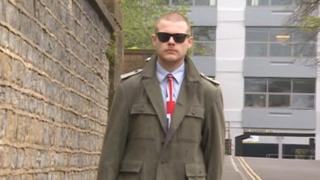 A "moronic" hoaxer who claimed a pub had banned military personnel to avoid offending the immigrant population has been given a community order.
The Globe, in Leicester, had to close temporarily after people threatened to firebomb the premises and kill or assault staff.
Joshua Bonehill-Paine invented the claims on his website the Daily Bale.
The unemployed 21-year-old must do 180 hours of unpaid work after admitting a charge of malicious communication.
Bonehill-Paine, of Hudson Road, Yeovil, will also be supervised by the probation service for two years.
He has described himself as "a rising star of the right-wing community".
He appeared at Yeovil Magistrates' Court wearing a union flag tie and accompanied by his mother.
In mitigation, Bonehill-Paine claimed he targeted the pub because he wrongly believed the landlord had been involved in an online hate campaign against him.
The magistrates told Bonehill-Paine he was on the cusp of a custodial sentence, but gave him a community sentence after taking his mitigation into account.
Graham Cluley, an independent computer security analyst, told the BBC that the Daily Bale is "utterly irresponsible and frankly moronic".
Bonehill-Paine and the Daily Bale have been responsible for other false claims published online.
Last year his website created a hoax missing person poster, claiming a six-year-old girl had been "kidnapped by an Asian grooming gang".
The hoax poster went on to be shared thousands of times on Facebook and Twitter, with many people believing the claim to be true.
Another article posted on the website in September falsely claimed an Asian youth had punched a two-month-old baby twice in the face, then thrown the infant against a brick wall in Middlesbrough. It contained a graphic photo of an injured baby.