Leicester fire deaths: Accused man denies being at scene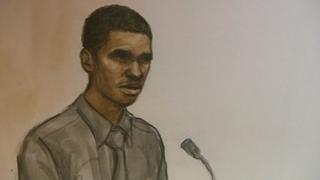 A man accused of starting a house fire that killed a family of four has denied being at the scene.
Tristan Richards, 22, is accused along with six other men and one teenager of the arson attack on a house in Wood Hill, Leicester, on 13 September.
Mr Richards told the court he had been at his girlfriend's house and only found out about the fire the next day.
Shehnila Taufiq, 47, her daughter Zainab, 19, and sons Bilal, 17, and Jamal, 15 died in the blaze.
Last week defendant Kemo Porter, 19, told the jury at Nottingham Crown Court that Mr Richards had poured petrol over the front door and started the blaze.
'Drugs, Money, Tools'
However Mr Richards has denied any part in the attack and said he had not known about the fire until the following morning.
On Tuesday the court was told Mr Richards, of Sparkenhoe Street, Leicester, had previous drug convictions and had a violent reputation.
It also heard Mr Richards had a nickname, DMT, which stood for Drugs, Money, Tools and a tally chart of all the people he had stabbed.
During cross-examination from his barrister Richard Benson QC, Mr Richards denied he was violent or dangerous.
He called claims about the meaning of his nickname as "absolutely ludicrous".
Previously, prosecutor Richard Latham QC said CCTV footage from the night showed eight figures walking towards the house and three running away after the fire started.
Mr Latham said the group had intended to target the family home of a man they believed had stabbed their friend Antoin Akpom hours earlier.
He had, in fact, lived two doors away and the wrong house had been attacked.
The other seven accused are:
Kemo Porter, 19, Browning Street, Leicester
Nathaniel Mullings, 19, of Farringdon Street, Northfield, Leicester
Shaun Carter, 24, of Franche Road, Leicester
Jackson Powell, 20, of Burnside Road, Leicester
Aaron Webb, 20, Saltersford Road, Leicester
Akeem Jeffers, 21, of Carr Mills, Buslingthorpe, Leeds
A 17-year-old youth, from Leicester, who cannot be named because of his age
All eight deny murder. The trial continues.