PCC Sir Clive Loader defends Lubbesthorpe legal action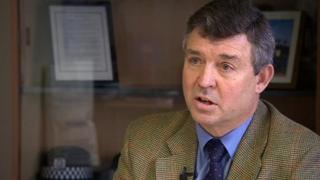 A police and crime commissioner who failed to get a 4,000-home new town blocked has said he was right to take legal action.
Leicestershire PCC Sir Clive Loader said the plans for Lubbesthorpe would put "acute pressure" on the force.
However, on Tuesday a High Court judge found in favour of Blaby District Council and rejected a judicial review into the proposals.
Sir Clive said he was "ethically and morally" right to have taken action.
He added: "It is my sworn duty to ensure that the police are able to cut crime and protect the public.
"I am certain that I am not alone in thinking that taxpayers should not be expected to suffer a reduced policing provision as a result of such developments."
The 1,000-acre community was given the final go-ahead in January after £40m was pledged by developers to offset its impact.
Of that funding almost £2m will go to Leicestershire Police for vehicles, communication equipment and buildings.
But Sir Clive, a Conservative, said the situation was "untenable" and applied for a judicial review which was thrown out by Mr Justice Foskett QC on Tuesday.
Ernie White, Tory leader of Blaby District Council, had said he was saddened that Sir Clive took the action but was now looking forward to work starting.