Chemical reaction caused Leicestershire factory fire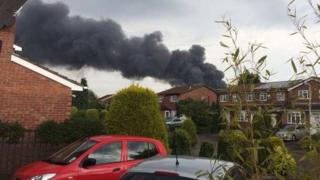 A large Leicestershire factory fire that led to hundreds of staff being evacuated was caused by a chemical reaction, the fire service said.
More than 40 firefighters tackled the blaze on Monday morning at GE Druck Limited, in Fir Tree Lane, in Groby.
Leicestershire Fire and Rescue Service said its initial thought that a chemical reaction caused the blaze has been confirmed in an investigation.
Parts of the factory were "severely damaged" during the fire, it said.
The fire service said there was a chemical spill in the building and the flames "spread rapidly", but crews "prevented it becoming a major incident".
"We are now able to confirm that the incident at the commercial premises in Groby was caused by a chemical reaction, leading to spontaneous combustion," a spokesperson said.
"The damage to the premises was extensive. The manufacturing block was destroyed by the fire, while the administration block was severely damaged by fire and smoke."
People living in nearby homes and businesses were evacuated from the buildings as a precaution.
Some concerned parents took their children home from Martinshaw Primary School, which is near the factory on Forest View.