Kasabian in Leicester: Thousands arrive for concert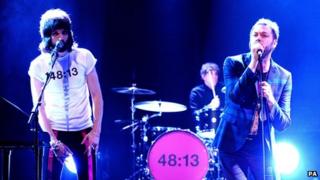 About 50,000 people have arrived in Leicester for a sold-out homecoming concert for Kasabian.
The band, who are all from the city, are playing at Victoria Park on Saturday evening.
Road closures and one-way diversions have been established in the streets near the park.
Organisers have encouraged people to leave their cars at home and walk or use public transport to avoid congestion near the site.
Speaking to the BBC Sergio Pizzorno, guitarist and singer for the band, said: "It's difficult to put into words how this feels because it is something that has been 10 years in the making.
"Playing to that many people - it is hairs on the back of you neck time. The energy you get from the crowd is incredible."
The line-up for Sumer Solstice includes Rudimental, Jagwar Ma, DJ Zane Lowe and Beardy Man.
The concert is thought to be the biggest event at Victoria Park since Radio One's One Big Sunday events in 2001 and 2003, which attracted about 80,000 people.
Gates opened at 15:00 BST with the first act on stage at 16:45.
London Road, between Mayfield Road and Waterloo Road, will be closing temporarily from 21:30 until midnight to allow music fans to make their way home.
Additional bus services, park and ride arrangements, and traffic plans have been laid on for the event.