Leicester charity bids for baby-cooling equipment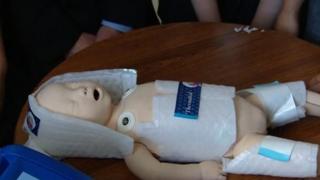 A fundraising campaign to raise £60,000 has begun for cooling equipment used to prevent brain damage in babies while they are taken to specialist units.
Leicester Hospitals charity wants to equip two ambulances with the units which lower temperature and slow down the rate of damage to the brain.
About 1,500 sick babies are transferred to units in Leicester, Nottingham, Coventry and Wolverhampton each year.
The charity said the equipment would improve outcomes.
It said more than 1,000 otherwise healthy babies born at full term, die or suffer brain damage caused by a lack of oxygen at birth or during labour each year.
Babies who do survive can be left with lifelong disability such as cerebral palsy.
The equipment was used to help Vicki Olner and her baby after he was born at George Eliot Hospital in Nuneaton.
She said having the units in ambulances would be "incredibly useful".
Her son Jude suffered from a lack of oxygen in the womb and had to be transferred to Nottingham City Hospital for specialised treatment shortly after he was born.
Mrs Olner said in her case ambulance staff had to use gloves filled with cold water and fans to keep him cool.
"The journey between hospitals was well over an hour and every minute counts," she said.