Leicester Racecourse invader banned from every track in the country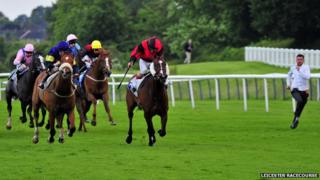 A man who invaded a racecourse and ran alongside horses has been banned from every racing venue in the country.
The spectator, who has not been named, climbed over the barrier in the 20:45 BST at Leicester Racecourse.
The eight riders, travelling at about 40mph on half-tonne horses, avoided an accident and the race was completed.
A picture of the invader has been sent to every venue in the UK and the Racecourse Association has imposed a lifetime ban.
The track invader got onto the course on the final furlong and tried to race the horses - who were in two groups and went around him.
Jimmy Stevenson, clerk of the course, said he had never seen anything like it in 20 years.
"Thankfully not many people are that stupid," he said.
"It could have been a really nasty incident, he put his own life at risk as well as those of the jockeys. It was seriously dangerous."
Mr Stevenson said the Racecourse Association takes a "zero-tolerance" attitude to safety issues.
He added: "The last thing the jockeys need to be worrying about is the safety of the spectators.
"The people who go to race meetings are very respectful and behave themselves. We don't want to go down the route of 6ft high fences with barbed wire."
A spokesman for Leicestershire Police said the incident had not been reported to them and they were not investigating.
The race, on Saturday, was eventually won by the favourite Illustrious Prince.