Kasabian in Leicester: Huge gig hailed a success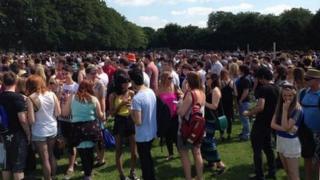 Kasabian's homecoming gig in Leicester's Victoria Park has been hailed a great success.
About 50,000 fans arrived on Saturday for what is thought to be the city's biggest concert for several years.
A number of people complained on social media about the mess left in the city and some residents said temporary restrictions meant cars were ticketed.
But police and council officers said there were only a handful of minor problems.
Fans from across the UK - and some from as far afield as Russia - had booked out hotel rooms in the city.
Glastonbury
Band member Sergio Pizzorno underlined the group's local roots by wearing a T-shirt spelling out "Les-tah" for the two-hour set.
On Twitter, fans Karl Burden said the concert was "absolutely awesome" and Adam Clarkson described the night as "something special".
Police deployed a team of special constables to oversee the concert and advise on personal safety.
Officers said there were six arrests for offences including assault and drug crimes.
But city council festival manager Maggie Shutt cautioned against expecting such events to happen often.
"The actual site itself accommodates concerts because sight-line wise it is flat, so that is fantastic.
"But you have to understand it is near residential areas and any decisions to take this forward for more festivals, major pop concerts, it would be a decision by many different partners," she said.
The band are due to close the Glastonbury Festival on 29 June.