Antoin Akpom murderer's jail term increased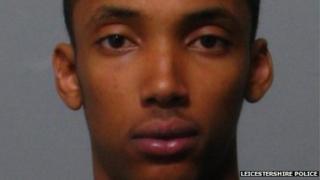 A 19-year-old man who murdered a football coach has had his jail term increased to 22 years.
Court of Appeal judges agreed with Attorney General Dominic Grieve that the 15-year minimum term imposed on Hussain Hussain was "unduly lenient".
He was jailed for life earlier this year for killing Antoin Akpom in a Leicester street.
In the hours after his death, four members of the same family were killed in a revenge attack on the wrong house.
Hussain stabbed father-of-one Mr Akpom after an altercation in Kent Street, Leicester, last September, weeks after he was released from a young offenders' institution for gang related crimes.
In April, jurors at Stafford Crown Court convicted the teenager of murder and he was jailed for life with a minimum term of 15 years.
At the Court of Appeal on Tuesday it was argued that period "failed to mark the gravity of the offence" and the circumstances in which it was committed.
The hearing was told that Hussain was moved to Leicester because of his involvement with gangs in London.
His previous convictions included possession of a knife in public, attempted robbery, affray and violent disorder including during the riots in the capital in 2011.
'Retribution' attack
Lady Justice Macur said Hussain had carried the knife to the scene and, following the stabbing, he tried to leave the country, but had no travel documents, travelling instead to Wales.
She added that Mr Akpom was a respected member of the community with no previous convictions or links to gangs.
Hussain's legal team argued that the sentence was fair and that Mr Akpom would never have been stabbed if he had not started the altercation.
When Hussain was taken from the court after the decision he shouted to the appeal judge: "Your honour, you think you are serving justice?"
On Monday, seven men and a teenage boy were convicted over the deaths of Shehnila Taufiq, 47, her 19-year-old daughter Zainab, and sons Bilal, 17, and Jamal, 15, who all died when fire engulfed their home in Wood Hill.
Their trial heard the blaze was "retribution" for the stabbing of Mr Akpom but the killers mistakenly targeted the wrong house.