Leicestershire fire service could axe 100 jobs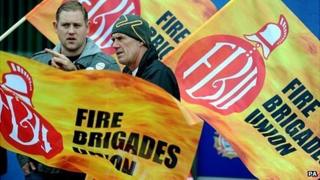 About 100 full time firefighters in Leicestershire - nearly a quarter of the workforce - could lose their jobs as part of cost-cutting plans.
Proposals also include axing 14 retained staff, cutting pump crews from five to four and losing second appliances at Loughborough and Oakham.
The Fire Brigades Union said cuts will put public and staff safety at risk and refused to rule out industrial action.
But managers said they had to save £7.5m over the next five years.
The service has a budget of £38.3m for 2014/15 and employs about 415 full time firefighters, along with 192 retained and 173 support staff.
'Absolutely terrifying'
Graham Vaux, from the Leicestershire branch of the FBU, said: "The proposals really do have a huge impact on the safety of the public and the crews.
"If we can't attend a fire with the appropriate resources then we might as well turn up with a water pistol because we can't manage to do what we are supposed to do.
"We might not be able to send a breathing apparatus team in, put a ladder up if a family need rescuing - the areas where they are looking to make these savings are absolutely terrifying."
But Dave Webb, Leicestershire's chief fire officer, said this was the start of a process and there was "an awful lot more talking to do".
He added: "I would not propose something which would put lives at risk, I am confident we can still protect the public and our staff.
"We are looking at all options, such as increasing revenue and we are looking at increasing our share of council tax."
But the Conservative leader of Leicestershire County Council, Nick Rushton, said he would not support any moves to increase the fire service's part of the council tax.