Coalville MRC charity playbus is wrecked by vandals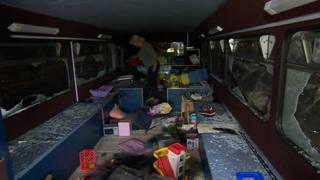 A bus used to support families in North West Leicestershire has been badly damaged by vandals.
The Playbus, run by the charity MRC Community Action in Coalville, was attacked twice this week.
The vehicle, a converted double-decker, has a children's play space downstairs and adult training and advice area above.
Windows were smashed and the interior ransacked and staff said it would be off the road for some time.
Staff said they were bewildered by the extent of the damage.
Lesley Massey, child and family services manager at MRC, said: "It's a huge mess inside, glass everywhere
"It's a sad, sad day because this bus has served North West Leicestershire for 30 years.
"Why would someone do this? I don't know what people get out of it. It's mindless."
The charity said the damage would have to be gauged before the bus's future was decided.