Four restored steam engines unveiled at Leicester festival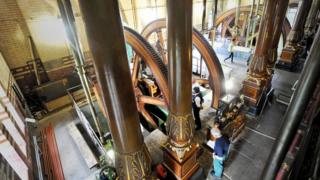 A Leicester science museum is celebrating its 40th anniversary with a special display of four steam engines.
It has taken a decade for museum staff and volunteers to restore the final Abbey Pumping Station engine.
The Museum of Science and Technology event will include displays from the days of steam to space exploration.
The four Gimson steam engines were built in Leicester and ran the pumping station's sewage works from 1891 until they were shut down in 1964.
World first
Dozens of volunteers from the Leicester Museums Technology Association (LMTA) have worked since 2004 to restore the fourth engine.
Tony Kendall, LMTA chairman, said: "It will cost £10,000 to run the temporary boiler - and that will only happen once every five or ten years or so.
"You will see about 200 tonnes of metal moving up and down or rotating round and round… in a 120-year-old building."
The museum's existing boiler only provides a limited amount of steam, so a larger, temporary boiler has been booked to run all four engines at once.
"This will be the only place in the world to see such a sight," said Mr Kendall.
City Mayor Peter Soulsby said: "To have all four original engines running at once will be an unforgettable way to experience their truly massive steam power."
The annual Vintage Festival runs at the Abbey Pumping Station on Saturday and Sunday.
Coal-fired chips will also be cooked in the museum's 1937 chip van in the outdoor food village.