Carillon Museum in search for bible owners' relatives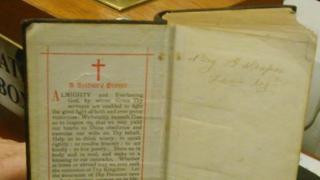 Volunteers trying to trace families of World War One soldiers whose bibles were found in a storeroom are looking for help to locate the last few.
About 30 bibles were found in a box at a former army base used by the Royal Leicestershire Regimental Association.
Members of Loughborough's Carillon Museum have spent two years researching databases and managed to reunite 12 of the bibles to descendants.
Chairman Mel Gould said a community effort may help find the remainder.
Mr Gould who works on the project in his spare time said the team had been "plodding along" so far.
"Finding the first one was quite simple after I contacted an author who recognised a name," he said.
"Since then it has been a bit more difficult.
"It has been really nice to reunite the bibles with the families. Some of the reactions we have had have been wonderful.
"One gentleman came to the museum from Birmingham to thank us.
"When he handled the bible the tears welled up in his eyes. He was named after his grandfather who was killed in World War One so it was particularly poignant for him."
Each of the bibles has the soldier's number, rank and name written on it.
Mr Gould said they had been given to the personnel as they entered into their training and families had been traced all over the country.
Researcher Marigold Cleeve, said it had proved to be a difficult task.
"We are trying to deal with four generations down the line," she said.
"It makes me feel very determined to try and reunite the bibles with the family."
Soldiers yet to be traced
Name and rank
Number
Research notes
Cpl Herbert Cooke
8119
1st Battalion. Pre-war regular who died in 1973 in Leicester
G Draper
Possibly Sgt George Draper
George Fairfax
9715
Later a sergeant in the 1st Battalion - his number may have been 9765
Pte J Hudson
9488
1st Battalion, promoted to sergeant major. Also served in Labour Corps and left the army in 1934
Pte Arthur Hooton
9657
1st Battalion, enlisted in Derby and killed in action
Pte H Houghton
9403
No trace of this man
Cyril J Jackson
9516
1st Battalion
Pte CW Simpson
8916
1st Battalion, enlisted in Leicester but son of Charles Simpson of New Cross, London
Ernest Smith
8030
Also served in Machine Gun Corps with the number 20867
Ernest Walters
9533
2nd Battalion. Also served as 47286 with the South Staffordshire Regiment and 42139 with the Norfolk Regiment
Pte F Waterfield
9638
2nd Battalion, wounded in Mesopotamia