Hinckley bare knuckle fight 'postponed'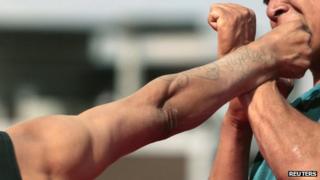 A bare knuckle boxing match that was due to take place on Saturday has been postponed, police have said.
More than 1,000 people were expected to attend the fight at Hinckley United's former ground, in Leicester Road.
A Leicestershire Police spokeswoman said the stadium's owners had decided to delay the bout due to "planning and licensing issues".
David Tredinnick, Conservative MP for Bosworth, had said the fight was illegal and wanted it to be stopped.
'Do not approve'
The force met the owners of the Greene King Stadium, organisers B-BAD Promotions and the local council, on Wednesday.
Chris Thompson, from the Greene King Stadium, said the venue's licence only covered boxing and wrestling events.
He said he was advised by the police that the licence could be under threat as the fight might be categorized under the rules of Mixed Martial Arts (MMA).
MMA is a full contact sport where hitting, kicking and grappling techniques are used by competitors.
Venues require a different licence should they want to put on a MMA fight.
"Had it been bare knuckle boxing [without gloves] we'd have said no straight away," said Mr Thompson.
"But we're working with police and we want to do everything correctly."
Leicestershire Police said the legality of the sport was a "grey area" but if gloves or wraps were not used then it would be against the law.
Andy Topliffe, from B-BAD Promotions, previously said fighters used coverings on their fists.
With regard to the postponement, he said: "It's a great shame."
However, he said the meeting with officials helped demonstrate that the sport was legitimate and "is not being fought in lanes, fields, or warehouses".
A spokesman for the British Boxing Board of Control said: "This event is not licensed or regulated... and we do not approve such events."