Richard Mayne MH17 death prompts online donation surge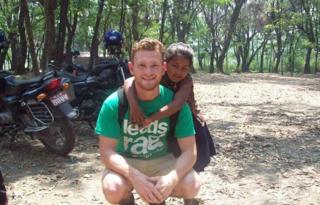 People have continued to contribute to an online charity fundraising appeal set up by a British university student killed on flight MH17.
Richard Mayne set up the JustGiving page six months ago to raise funds for the Kidasha charity, which helps disadvantaged children in Nepal.
Mr Mayne, 20 and originally from Leicester, went to Nepal in March after being selected for a charity trek.
The Leeds' student's page has attracted more than £4,000 in donations so far.
Mr Mayne's original fundraising target was £680.
'Kind friend'
One of dozens of people who donated to the appeal over the weekend wrote, on the page: "Never met you, but the beautiful things people are saying about you make me wish I had had the pleasure.
"Trying to make a little good come from something so terrible. So much love to your family."
Other online tributes were also paid to Mr Mayne, who volunteered at a school during his time in Nepal.
His friend, Piers Cottee-Jones, described him as the "kindest friend I ever had".
He said: "Richard always made people smile - he could make friends with anyone - I'm going to miss him."
Tributes were also paid to Bristol student Ben Pocock, who was studying at Loughborough University.
He was among 298 people killed in the Malaysia Airlines tragedy in east Ukraine.
In a statement, the family of Mr Pocock said: "He was a gifted academic, talented athlete but more importantly a warm, caring, fun-loving son and brother who had an extremely bright future ahead of him.
In a mark of respect to the dead, Malaysia Airlines said it would retire the MH17 flight number. The airline did the same for MH370, which disappeared in March with 239 passengers and crew on board.