Antoin Akpom 'swung dumbbell at murder accused Abdul Hakim'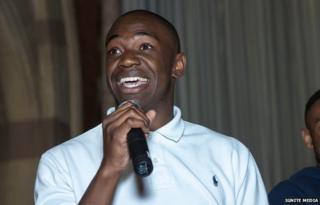 A man who denies murdering a sports coach has told a court the victim swung a dumbbell at him during the confrontation.
Antoin Akpom was fatally stabbed by Hussain Hussain but Abdul Hakim is on trial for murder because of his alleged involvement in the attack in Leicester.
Mr Hakim said he feared he would be blamed, so he got his family to flee their home for their safety.
Four people later died in a botched revenge arson attack two doors down.
The eight men responsible accidentally targeted the wrong home and have since been jailed.
Mr Hakim, 20, told Nottingham Crown Court: "I knew that they are going to try to attack me, sir, or if they cannot get me they are going to get my family.
"I telephoned my mum to tell her to get the kids out of the house, my little sisters, 15 and 7."
The confrontation involving Mr Akpom happened in Kent Street at about 17.30 BST on 12 September.
The court heard Mr Akpom was in a group of about eight or nine men from a gym, who confronted Mr Hakim and 19-year-old Hussain.
Hussain has already been convicted of murder and jailed.
Mr Hakim said he did not hit Mr Akpom, despite claiming Mr Akpom swung a dumbbell at him.
"I never hit him; I never laid a hand on him," Mr Hakim said.
Mr Hakim said he did not know Hussain had a knife and the first he knew of the stabbing was when he saw blood on Hussain's jacket as they ran away.
"I seen blood on Hussain's jacket and at first I thought he was injured," he said.
"Then he took his jacket off and put it in a bush and then he told me.
"He told me he stabbed him in the lower back but I never knew it was fatal."
The case continues.