Antoin Akpom murder: Not guilty verdict for Abdul Hakim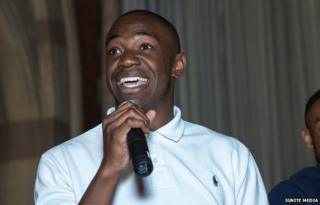 A man accused of murdering a sports coach in Leicester has been found not guilty.
Jurors were told that although Adbul Hakim had not stabbed Antoin Akpom, the murder was a case of joint enterprise.
During the trial, Nottingham Crown Court heard there had been "bad feeling" between Mr Akpom and Mr Hakim.
The jury was discharged after failing to reach a verdict on an alternative charge of manslaughter against the 20-year-old, of Wood Hill, Leicester.
Mr Akpom, 20, a coach and former player at Leicester Nirvana FC, died on 12 September after being stabbed in the city's Kent Street.
Hussain Hussain, 19, has already been jailed for his murder.
Hours after the stabbing, a group of men attempted to take revenge for Mr Akpom's death by setting fire to the home of Mr Hakim's mother, the court was told.
However, four members of the same family were accidentally killed when the men set fire to the wrong house.
Dumbbell confrontation
The jury heard trouble started when Mr Akpom had a verbal exchange with Mr Hakim and Hussain Hussain in the street.
Mr Akpom was then driven to a nearby gym and ran back a couple of minutes later with a dumbbell and a group of men, the court heard.
Giving evidence, Mr Hakim told the jury: "I knew that they were going to try to attack me, or if they cannot get me they are going to get my family.
"I telephoned my mum to tell her to get the kids out of the house."
Mr Hakim said Mr Akpom swung a dumbbell at him during the confrontation, but he "never laid a hand on him".
He told the court the first he knew of the stabbing was when he saw blood on Hussain Hussain's jacket as they ran away.
Speaking after the trial, Mr Akpom's mother, Cheryl Armatrading, said: "The positive thing from this is that Hussain Hussain is actually in prison and has been convicted because he actually inflicted the wound to Antoin and killed my son."
She said the verdict on Mr Hakim had left her "numb, hurt and upset".
However, she said it was difficult for the jury as Mr Hakim did not carry out the stabbing itself.
Judge Mr Justice Peter Openshaw said given the background to the case there were very high feelings.
The prosecutor Richard Latham QC said he understood that Mr Hakim would not be returning to Leicester and would not be starting any further proceedings against him.