Richard III visitor centre: Battle over web reviews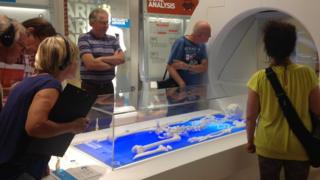 Critical reviews of a new Richard III centre have led to its manager calling for a campaign to back the attraction.
The £4m visitor centre, which details his short reign, death and rediscovery, opened on Saturday in Leicester.
A group called Petition to bring Richard III back to Yorkshire asked supporters on Facebook to give it a one-star review.
There are more five-star reviews but the centre's boss said he wanted more from those "who have actually been".
Even before the bones, found in a Leicester car park, were identified as the king, calls were made to take them to York, where he had strong connections.
A group called The Plantagenet Alliance, made up of distant relatives of Richard, succeeding in securing a judicial review of the licence to reinter the bones in Leicester.
This was rejected and the ceremony is due to take place in Spring 2015.
Petition to bring Richard III back to Yorkshire's original post - now removed - said "Please let the King Richard Visitor Centre know your thoughts by rating their 'attraction', by selecting 1 star, no write up is required".
'Humiliation and degradation'
Currently five-star reviews outnumber one-star by 64 to 54.
Patricia Rice-Jones wrote: "Does no-one in Leicester have any decency and respect for this much maligned King?"
Paula Connelly posted: "529 after his death, the humiliation and degradation of Richard III continues in Leicester."
Alan Hardcastle - whose avatar is a picture of York Minster - felt the centre was: "Just a child-friendly playground of false expectations and computerised gadgetry."
Iain Gordon, director of King Richard III Visitor Centre Trust, said: "Since the doors opened the overwhelming majority of feedback and comments we have had has been incredibly positive.
"So I think what we need is our own online campaign and encourage people who have actually been to the centre, especially from Leicester and Leicestershire, to leave us a four or five star rating based on what they have experienced."
About 1,000 people have come to the centre since it opened, with organisers hoping to attract more than 100,000 in the first year.
Petition to bring Richard III back to Yorkshire has not yet responded to requests for a comment.