De Montfort University heritage centre to open in £136m revamp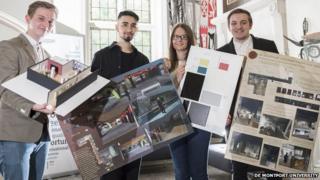 Leicester's De Montfort University is to open a heritage centre as part of the £136m redevelopment of its campus.
The centre, based in the Victorian Hawthorn building, will have exhibition space examining the history of students, the campus and its buildings.
Students helping to design the centre said they were thrilled to be involved in celebrating DMU's "rich history" and the area's dating back to the 1300s.
Work on the multimillion-pound Mill Lane project began earlier in July.
It will boast new fashion, design, art and architecture departments.
The university said the heritage centre was intended to show how the historic area of The Newarke had developed over the last 700 years.
Tom Brown, a second year interior design student, said: "It is superb that we are having a hand in contributing to the future of the university in this way.
"It is great to be able to say that 'I was a part of it'."
The centre will also feature two remaining arches from The Church of the Annunciation of the Blessed Virgin Mary, which was built in around 1353 at the request of Henry, fourth Earl of Leicester.
The church is most famous for being the place where the naked remains of King Richard III were believed to have been put on display for two days following his defeat at the Battle of Bosworth in 1485.
The church was demolished in the mid-1500s.
Alan Brine, head of archives at DMU, said the centre would also celebrate the city's "rich heritage".
"DMU is not just about the college, polytechnic and the university," he said.
"DMU is about students and academics who have breathed life into this city since 1870 and the buildings that have stood on and around our campus since the 1300s."