Braunston-in-Rutland church 'blighted by bat faeces'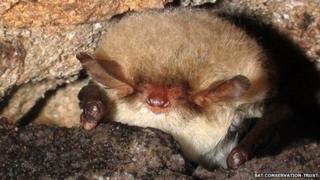 Faeces and urine from a 500-strong colony of bats are affecting services at a 1,000-year-old church in Rutland, officials have said.
The bats are roosting in the roof of All Saints Church, in Braunston-in-Rutland, but cannot be removed as they are a protected species.
Staff and volunteers are spending up to an hour-and-a-half cleaning before weddings and funerals can take place.
They have also covered stones dating back to 1632 in order to protect them.
Local MP Sir Alan Duncan said he would raise the issue with the Church Commissioner in Parliament.
He said: "This situation is absolutely intolerable and I have never seen such a mess.
"Bats might be a protected species, but they are clearly not facing extinction in Braunston any time soon."
Speaking in the House of Lords earlier this year, Conservative peer Lord Cormack agreed bats were a "particular menace" to church-goers.
He described an instance in which "the vicar had to shake bat faeces out of her hair while celebrating holy communion at the altar".
Braunston church council member Sue Willetts told the Leicester Mercury: "The young fly all over inside the church and their droppings are all over".
She added: "The first thing that hits you is the smell."
Derek Williams, of Peterborough Diocese, added: "Bat droppings can cause irreparable damage to buildings and artefacts, as well as inconveniencing visitors.
"We receive no state aid for church maintenance or for the kind of legal measures to discourage bats from roosting."
A spokesman for the Bat Conservation Trust said it was sympathetic to the church community in Braunston.
He said: "We are committed to helping churches and, where problems are experienced, to finding lasting solutions."
Roosting bats are believed to affect up to 6,400 churches nationwide.