Leicester Diwali festival attended by 30,000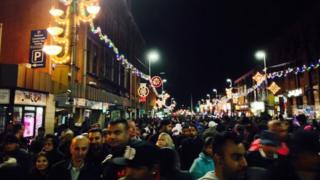 About 30,000 people attended Leicester's Diwali lights switch-on, to mark the start of the festival.
The event is one of the largest outside India and last year attracted more than 35,000 people.
A switch-on of more than 6,000 lamps took place on Belgrave Road on Sunday night, accompanied by an evening of traditional Indian music and dance.
Festivities for the day of Diwali itself will be held at Cossington Street Recreation Ground on October 23.
Diwali is a celebration of light over darkness and is a major Hindu festival also marked by Sikhs and Jains.
---
The festival of Diwali
•Diwali derives from a Sanskrit word meaning row of lights
•Small earthenware lamps filled with oil are lit and lined along parapets of temples and houses and set adrift on rivers and streams
•Day four of the five-day festival is the main event and the beginning of the lunar month of Karttika - the Vikrama calendar's new year
•For many Hindus, the festival is an opportunity to honour Lakshmi, the goddess of wealth. But a number of other gods and myths are also marked
---
Jashvant Chauhan, vice-president of Leicester's largest Hindu temple Shree Sanatan Mandir, said: "People flock to Leicester from all parts of the UK and from overseas.
"That is how well-known and renowned Leicester's Diwali light celebrations are and it is just the beginning of the celebrations."
After the switch-on, there was a a firework and laser show at Cossington Street Recreation Ground.