Leicester throat-cut victim describes attack to court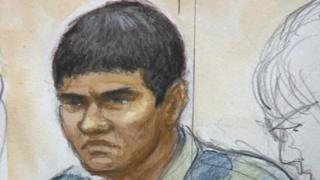 A teenager has described to a court the moment she was grabbed from behind and had her throat cut on a busy street.
Darshana Narotam, 18, of Wembley, London, was with her boyfriend Prashant Govinde when the attack took place in Spinney Hill, Leicester.
Ms Narotam, who had fled an arranged marriage, told Leicester Crown Court she thought she was going to die.
The intended bridegroom, Bharat Soma, 26, of North Evington, Leicester denies two charges of attempted murder.
Ms Narotam described to the court how she was surprised when her parents told her they had arranged a marriage.
She spoke with Mr Soma weekly on the phone but when she said she was marrying someone else, she told the court he said, "I will kill you, I am not afraid of going to prison".
Ms Narotam was then kept locked in her room for months but ran away after her father had grabbed her by the throat, she told the court.
The jury heard that after moving into Mr Govinde's Leicester flat she was returning from a shopping trip in January with him and another relative when the attack took place.
She said: "Somebody came from behind, they held me from my neck cut my throat. I screamed.
"I was terrified. I shouted to Prashant 'I am going to die and you won't be able to save me'."
Mr Govinde was also stabbed, but both victims survived after hospital treatment.
Her father Narotam Deugi, 41, and her mother Parvati Natu, 42, of Wembley, both deny charges of common assault and false imprisonment.
Four other people deny charges related to the kidnapping of Mr Govinde's father, Govinde Ramji, in an attempt to find out the couple's whereabouts.
The trial is expected to last eight weeks.