Leicestershire Police scores 3/5 on 'TripAdvisor'-style site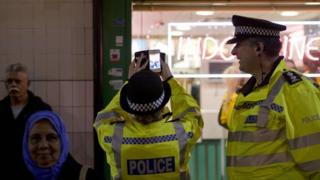 A police force has been given three stars out of five since it launched a "TripAdvisor-style" rating site.
About 90 people have so far used the Leicestershire force's Rate Your Police tool, which allows users to leave a score and give feedback.
Chief Constable Simon Cole said negative comments have "upset" him but others have instilled pride in his officers.
He said he hoped the ratings would help to improve the force.
'Outstanding work'
Some of the lowest one-star ratings criticised the force's lack of response to reports of crimes, with one writing: "Leicestershire police are pretty much non-existent unless its considered a 'serious' crime."
Among other complaints was a lack of police presence in the Eyres Monsell area of Leicester and another accused the force's press office of being "vague and evasive".
However, one person who was arrested after a drunken brawl praised officers and said he was even offered a Pot Noodle and a cup of tea.
Five-star reviews praised the force for returning a stolen recycling bin and another for helping out after a car had broken down.
Mr Cole said he was "immensely proud" of the positive comments.
"The ones that upset me are the ones where people suggest we don't care or aren't interested because we do care and we are interested and we need to make sure we can overcome that," he said.
Leicestershire Police communications staff have been replying to the comments, he said, and the force will start to look at whether there are problems in specific areas of the county as more responses are received.
Victims of crime surveys have revealed that 84% are satisfied with the service they received, he said.
It is the first time a force has used such a ratings system across the whole organisation.
Home Secretary Theresa May praised Rate Your Police for its "outstanding" work in creating a pioneering public feedback tool.