Access road for secure Leicestershire college rejected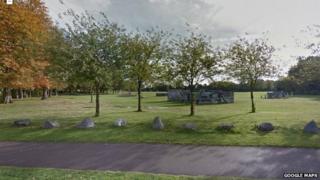 A request for access across a Leicester park to allow construction of a new secure college has been rejected.
The Ministry of Justice (MoJ) wants to build the UK's first secure college for young offenders in Glen Parva.
But permission for the temporary access road across Eyres Monsell Park was turned down by council leaders because it would take away recreation space.
A MoJ spokesman said the refusal was "disappointing" but it would work with the council to consider other options.
Green space
Eyres Monsell councillor Virginia Cleaver said she was "absolutely delighted" by Leicester City Council's decision as the proposed road would have been "devastating" for the area.
Local resident Sascha Thomas said: "My concern is mainly my children's safety … I don't want to see lorries every morning when I am taking my children to school."
Blaby District Council has already approved the overall plan for the £85m college and construction could start next March with completion expected by 2017.
The Howard League for Penal Reform has opposed the 320-student college, saying "small, local secure units" were better for young offenders.
Prisons Minister Andrew Selous said the unit would give vital skills and qualifications to young offenders.
A new bill setting up the secure colleges is still being debated in the House of Lords and must be approved before the project can go ahead.