Loughborough breaks Christmas jumper-wearing world record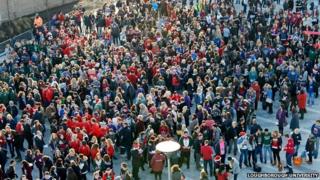 A Leicestershire university has found out it holds the world record for the largest gathering of Christmas jumper-wearing people, after three months.
The festive fundraiser in December saw 1,175 staff and students gather at Loughborough University's new square.
They broke the previous record of 639, which was set by Three (UK) in 2013.
Organiser Sarah-Emmanuelle Haar, said they were "absolutely thrilled" after a "nerve-wracking" wait for Guinness World Records' confirmation.
More than £3,000 was raised by the event for charity Save the Children.
Professor Robert Allison, the university's vice chancellor, said: "To hear the university is now a Guinness World Record holder has certainly put a smile on the face of all who took part."
Also in December, 1,200 people wearing Christmas jumpers gathered in Dublin, Ireland for a similar event and 456 people turned up for an attempt in Gravesend, Kent but both failed to break the record.
A spokesman for Guinness World Records said confirmation can take time as it can take up to eight weeks for evidence to be verified.